Louis Vuitton capturing Messi and Ronaldo together in a legendary chess game – Virat Kohli leaves a comment of three words which is magnetising a lakh likes on the comment itself.
The two biggest stars of football (soccer), Lionel Messi and Cristiano Ronaldo,are playing chess in Louis Vuitton's latest campaign, launched on Saturday. Chess fans quickly discovered that the position on the board is from a real game.
"Victory is a State of Mind," writes Louis Vuitton alongside the photo, in which Messi and Ronaldo are playing chess on a checkered Louis Vuitton suitcase. The picture, which was shot by the legendary celebrity portrait photographer Annie Leibovitz, was posted on Messi's, Ronaldo's, and Louis Vuitton's channels.It is already among the most-liked Instagram posts. Moments after the picture was released,the picture went viral like crazy.
Among those to react to the photo was Indian cricket legend Virat Kohli. Not only did Kohli press the like button on the post but he also wrote an epic three-word reply. "What a picture," wrote Kohli in the comments section of the post which is close to gathering a lakh likes on itself.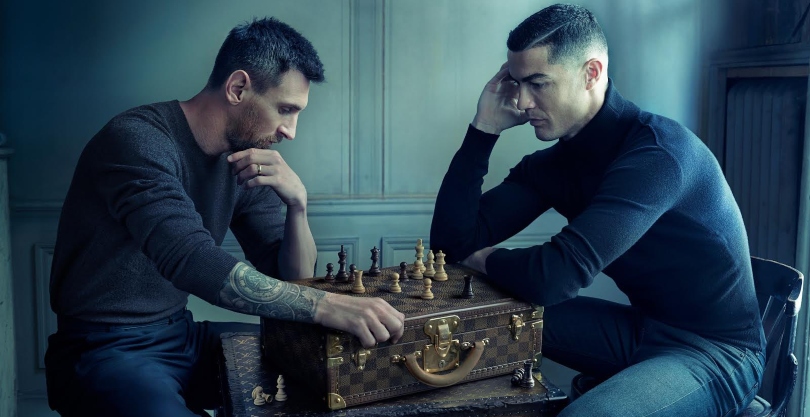 Louis Vuitton adds: "In addition to a long tradition of crafting trunks for the world's most coveted sporting trophies, the Maison celebrates two of the most talented football players today." The photo was published a day before the opening of the FIFA World Cup in Qatar, which is likely the last world cup for both superstars.
Not only the picture of two stars together but there is another catch in the picture. As it turns out, the position on the board is not random—on the contrary. Ronaldo and Messi are looking at a position from the game Carlsen-Nakamura, Norway Chess 2017. It was GM Magnus Carlsen's second GM Peter Heine Nielsen who first pointed that out on Twitter, and then Carlsen commented on that tweet and the photo: "Second greatest rivalry of our time mimicking the greatest."
After the sixth round of the Meltwater Champions Chess Tour in San Francisco, Carlsen gave the following comment on the Louis Vuitton photo: "The original is from my game with Nakamura in Norway Chess 2017, a very tumultuous event for me. I ended up with minus one, and at several points during the tournament, I was in risk of dropping to number two or three or even four in the world. It was tough!"
Asked if the Messi-Ronaldo rivalry is comparable to the Carlsen-Nakamura rivalry, the world champion said: "Not really, but he's good at a lot of the stuff that I'm good at, for sure. It's not the worst comparison in the world."
Meanwhile, a behind-the-scenes video of the shoot has surfaced where we can see both Messi and Ronaldo posing for the photo while being interviewed about the upcoming World Cup.